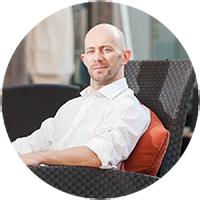 Your link to International Business Zones
Curious in nature, I grew up in Clermont-Ferrand, a city in central France, renowned for its volcanoes regional nature park granted Unesco World Heritage status.
This part of the world hold another treasure: the Stade Marcel Michelin. A successful landmark where the ASM  has proven to be very competitive rugby team over years, and more recently by winning the European Challenge Cup in May 2019.
This is where the century-old tire manufacturer, Michelin, a name synonymous with innovation and longevity, is also established, as well as the factory Volvic spring water.
Very quickly, I left France to live something else, and it is in the United Kingdom where I settled. From 1991 to 2007, I have evolved in various sectors of activity from hospitality, finance, automotive, distribution and retail, to debt recovery.
In the fall of 2007, a combination of professional and personal circumstances led me to another destination, this time in the Middle East. After an experience with an international relocation company, I understood the importance of highlighting the qualitative aspect of what a true customer relationship is about.
"I claim the importance of a no non-sense attitude, which has always played a leading role in my exchanges. Without believing in the strength of human relations and gaining their trust, it is not possible for a company to develop itself to its full potential."
Learn more